Good evening ladies!
I've been away for a couple of days, but I've been gathering material that I want to show you.
First up is the Old school glam look.
Read on...
Since I made my BONDI "Horny Mistress" mani (blog post about it -
HERE
) I decided to start off the week with 2 retro looks in two consecutive days.
The first one is a bit more rigorous look, but absolutely glamorous one.
I am a huge fan of DitaVonTeese and her style, respectively of all the glam from the 30s, so I love doing such looks. Also my whole look "type" is Winter type, meaning I have pale skin, dark hair and dark eyes (think Snow White haha), so such looks appeal to me a lot.
Now on the look itself. Below you'll find listed all the products I used:
AVON BB Cream in "Shell"
MeMeMe Beat the blues illuminator
DitaVonTeese for ArtDeco transparent powder (oh, how I love it!)
INGLOT neutral eyeshadow
Maybelline eyeliner pencil in Black
Maybelline Flasies mascara in Black
Rimmel brow pencil in dark brown
Sephora Lipstick in blood red color
The earrings I wore are a gift from my dad for my birthday this year. They also have a very delicate necklace with them, but with the top I wore it wouldn't have fitted the look.
As for the hair I did the
Freckled Fox
Ballerina Bun (tutorial
HERE
), but you can see that there are some flyaways,because my hair is shorter in front and longer at the back, so its kinda inevitable. Anyway I love Emily
's tutorials, always thorough and always very well explained.
Additionally I have participated with this look in the MakeUp Monday LinkUp. If you want to join all you need to do is click on th
e button below, follow the simple rules and most importantly - Have Fun! ;)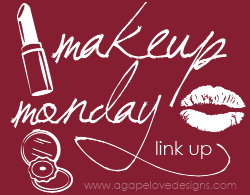 Link up a specific blog post, not your entire blog (if you don't have a blog, you can link up an Instagram or Flickr photo as well;)

Grab the Linky button above and place in your sidebar or link back to MakeUp Monday (link once you click on the button above)

Follow your hosts AgapeLoveDesigns and WinkForPink
Tweet about this linky using hashtag #MakeupMonday and mention @mariagridley (not mandatory)
Enjoy the photos below and leave me a comment to tell me your thoughts on this look :)